What is the Q&A Webinar Replay Club?
Every month CCO hosts a live webinar with Laureen Jandroep, CPC, CPC-I, COC, CMSCS, CHCI, CPPM CCO Founder and CEO fielding questions from you and your peers. Also on the panel with Laureen are Coding Instructors and Coaches, Alicia Scott, CPC, CPC-I, CRC and Chandra Stephenson, CPC, CIC, COC, CPB, CPCO, CPMA, CPC-I, CCS, CANPC, CEMC, CFPC, CIMC, CGSC, COSC, CRC, CCC CCO. Together they prepare answers to your questions prior to the call and present answers via a live, engaging webinar.
The Replay Club is for anyone who would like the opportunity to view the webinars that they either missed or would like to see again. It provides the full video recording, the full transcript, answer sheets, and a CEU quiz & certificate for the monthly webinar are all included monthly.You can go back 12 months and earn a CEU credit for each month by taking a short quiz. Upon successful completion you are given an AAPC CEU certificate.
Full Access to All Content From Current and Past Webinars
When you join the club you get first access to the replay of the live event including a printable transcript containing every word spoken during the webinar. The transcripts also include time stamps of where each question starts to help you advance the video to just the right spot. You will also have access to all our previous webinars, many of which you can earn CEUs after taking a short quiz.
There are video clips for each instructional segment of every webinar and the chat questions answered during the webinar. There is a transcript for the whole webinar, start to finish, plus the answer sheets that each presenter used while presenting, if used.
Watch Videos
Every month we record and upload our Q&A Webinar sessions for easy, online viewing from any device.
Listen to Audio
Download and listen to our Q&A Webinars on the go. We provide a full MP3 audio of every webinar session.
Full PDF Transcripts
Download, read and print the complete, word-for-word transcripts of every month's Q&A webinar session.
Get Up To 18 CEUs...Even If You Miss the Webinars!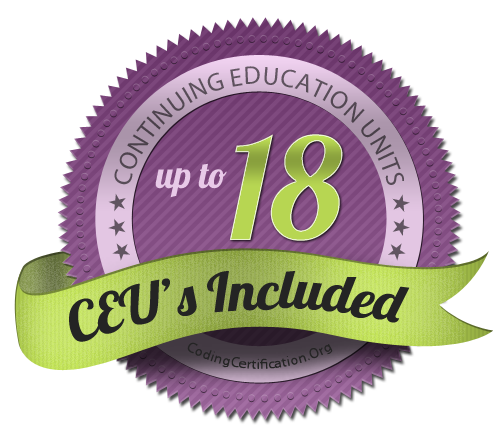 There is always a CEU quiz available if you miss a webinar so you can still earn 1.5 CEUs for it. When you join the Replay Club, you also get access to all previous months' webinars including ability to earn CEU certificates for the past 12 months of completed webinars. That's up to 18 CEU's per year, just for being a member and passing the short quizzes we provide after the webinars.
Sample Videos from The Webinar Replay Club
Here are some sample clips we have up on YouTube so you can see what our webinars are like…
YES!

I Want Instant Access to Webinar Replays,
Downloadable MP3's and Full PDF Transcripts!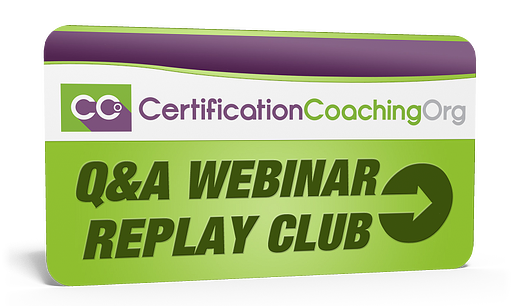 Get Instant Access for $19.95/Month


Get Instant Access for an Entire Year for $199.50 and save $39.90
(2 months free!)


Frequently Asked Questions
Q. Aren't the CCO Live Webinars free?
A. Yes, the initial live presentation of the Monthly Q&A Webinar is free, and a service CCO gladly offers to help coders in understanding a variety of topics. Once the live webinar is complete, we process the recording taken during the live webinar and archive it to our Replay Club, which is open for further viewing exclusively for our Replay Club members.
Q. How do you put in the CEU index code on the AAPC website?
A. Go to http://www.aapc.com. There are several ways to get to the CEU Tracker but one way is to do the following. On the home page, hover over the Continuing Education on the top (horizontal) navigation bar. Then click on CEU Tracker. Scroll down, if necessary, and click on the ADD CEUs button. This will bring up a page where you can enter the index number and appropriate date. Be sure to click SAVE.
Q. Do I need to be credentialed to utilize the CEUs?
A.You must be credentialed before utilizing the CEUs, but anyone can take the quiz to test their knowledge, and all are welcome to join the Replay Club to enhance their education and network with peers.
Q. Is this for beginners? Do I need to have medical coding knowledge to join?
A. It may be easier for those with medical coding knowledge to understand and grasp the content, but the more you are exposed to helpful coding examples, guidelines, and topics about the medical coding professions, the sooner you will learn it. Therefore, please feel welcome to sign up for the Replay Club no matter what level of coding expertise you currently have so you can learn more!
Q. How do I cancel my recurring subscription?
A. If you wish to cancel this membership, click here to login to the Member's Area. On the product listing page, you will see a "cancel" button beside your Membership. Click the button to cancel your membership. You will continue to receive access until your current enrollment period ends.
Past Q&A Webinar Video Topics Include…
36415 and 85025
Anesthesia Consultation
Billing a Patient as New and Established
Blitz 2013 vs 2014 changes
Bubble and Highlighting Example
Can Coders Be Replaced by Computers?
Ceus CPC
CM Burns and TBSA
Coding for Physicals Internet Research
Coding for Vaccines
Coding From Home - Practicode
Coding Job While Studying For CPC® Certification
Coding Viral Syndrome And Bronchitis
Confusiton with Consult Codes when Dealing with Medicare/Medicare Advantage Patients
CPC® Exam And Preventing Failure
CPC® Test 2014: what updates and suggestions to pass the test?
CPC® vs CEDC
CPT 36415 Replaced with 36410
CPT- EM: Nursing Facility Services
Debridement
Definitions of RBRVS and GPCI
Determining the Level of MDM
Do We Need A CPC® to Get A Job?
Excision-Benign Lesions
Freezing on the CPC® Board Exam Path and Lab section: Panels
GERD
Gestational Diabetes
Glaucoma Coding
Granularity And Laterality
HCPCS Level
Hospital Discharge
How Do I Find a Code with Multiple Procedures?
How Do You Become A Facility Coder Or Inpatient Coder
How Does a Coder Determine and Sequence Late Effects and Principal Diagnosis?
How Many Codes Do You Need When Coding a Pregnancy and Delivery?
How to Code a Colonoscopy Screening
Hypertension
ICD Sequencing
ICD-10 - Doctors Dont Like It
ICD-10 Codes For Chiropractic
ICD-10 Course For Ceu's
ICD-10 Launch
ICD-10 Mini vs ICD-10 Full Course
ICD-10 Practice Questions
ICD-10 Terminology and 7th Digits
ICD-10-CM Coding Practice Case Family Internal Medicine
ICD-10-CM Gastrointestinal Ulcers
ICD-10-CM New Chapters Disorders of the Eye and Adnexa
ICD-9 Shaken Baby Question
ICD-9 to ICD-10
ICD-9 vs ICD-10 - Take the CPC® Exam Now or Wait for ICD-10
ICD: Working Diagnosis
Intractable vs Refractory
Intraocular Lens
Is Photodynamic Therapy Considered A Diagnostic
J3301 Are Being Rejected by Medicare. How Should They Be Submitted?
Medical Decision Making Table of Risk
Medicare And Annual Physicals
Modifier 59
Modifiers Ob And Oa-8
MOHs micrographic surgery codes (17311-17315)
Mutually Exclusive Procedures
Nerve Block Follow Up
OB Question on a Practice Exam
Obv Vs Er
Omit Codes
Organic vs. Non-organic
Orthopedics
Path and Lab: Reproductive Medicine
Physician Services 99221 Or 99281
Physician Visit After Surgery
Purchasing New Coding Books Without A Coding Job
Q&A CCS vs CPT
Remote Coding - Remote Coding Without Experience
Repiratory Dependency
Review of Neoplasm Coding from the ICD 9 Manual
Review of Prolonged Services Coding
Search Tips
Should You Code Total or Partial for a Thyroid Lobectomy Surgery
Skin Substitute
Sports Physical
Stick And Stuff Codes
Studying for the CPC® Exam
Tabbing Your manuals
The Best Medical Dictionary Of Medical Terms For Use In Coding
The Difference Between Etiology and Manifestation Codes
The Mystery Behind E Codes
The Proper Way to Code for Drug Infusion for Patients with a Breast Cancer Diagnosis
V Codes
Vaccine Administration
Waiting For ICD 10 To Pass The CPC® Exam
What Are My Options for Learning ICD-10 Without Attending College?
What Coding Credential to Get First
What is HCC Coding?
What You Should Know About Coding Preventative Medicine
When coding 17000, 17003, and 17004, do you put the number of lesions removed (units) or do you list each lesion speparately with the 59 modifier
When Should I Start to Study for ICD-10?
When to Use Modifiers and Level II HCPCS
Where Do I Take the CPC® Exam?
And more (yes...more!)
Get Instant Access for $19.95/Month


Get Instant Access for an entire year for $199.50 and save $39.90

(2 months free!)