What Exactly Is HCC Coding?


HCC's (Hierarchical Condition Categories) were designed to assign scores to Medicare Advantage members' based on their chronic conditions. The HCC coder's job involves identifying and capturing the chronic conditions which carry an HCC and are actively being treated by a physician.There are 79 HCC categories of chronic illnesses with thousands of diagnosis codes. This entails the ability to read multiple styles of documentation as well as draw a line between a condition and the current treatment in a face to face visit.
How Can You Benefit from HCC Coding Training?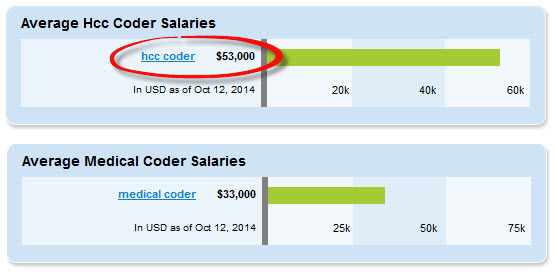 With specialization in HCC coding comes a higher salary. Normal medical coders can expect to earn $32,000 per year. HCC Coders, however, can expect to earn a higher salary of $53,000 per year according to SimplyHired.com.
Who's this HCC Coding Course for:
Your Subject Matter Experts:
The HCC Coding Course Includes
17 Jam-Packed Modules

The Guiding Principles of Risk Adjustment
Risk Adjustment Terminology
HCC Coding Hierarchy Methodology and Guidelines
HCC Disease Co-morbidity and Interactions
Bulletproof Documentation with Linking Statements
Understanding The Risk Adjustment Submission
Prospective, Retrospective Reviews
Risk Adjustment Factor Scores (RAF)
Benefits of the Annual Wellness Visit (AWV)
Suspect Generation and Predictive Modeling
Medical Loss Ratio Reports (MLR)
Healthcare Effectiveness Data and Information Set (HEDIS)
Five-Star Quality Rating System (STAR)
Model Output Report (MOR file)
Risk Adjustment Data Validation (RADV)
ICD-10-CM Impact on HCC Coding and Risk Adjustment
HCC Job Search Tips
Each HCC Coding Course Module Contains:
Textbook Chapters by Holly Cassano, CPC
What's Included with the HCC Coding Course:
What You Need:
ICD-10-CM manual your choice
Frequently Asked Questions
Q: Is it live?
A: The course is recorded so that you can access the content as often as you need during your year enrollment.
Q: How long will it take to finish?
A: We like to suggest you complete one chapter a week but you are free to move quicker if you like.
Q: Do I need to be a certified coder to take this course?
A: We recommend this course for certified coders but if you have a solid coding background you would be fine to take the course. Keep in mind though that most employers seeking HCC coders require them to hold some sort of coding certification like the CPC/CCS credential.
Order Now And Get Instant Access
Yes!

Please Give Me INSTANT ACCESS To The Entire

"HCC Coding Course"

I understand I'll be receiving 12 months online access to the entire "HCC Coding Course" for a small one-time investment!

I also realize I have 7 days to request a refund - plenty of time to make sure this course is for me.*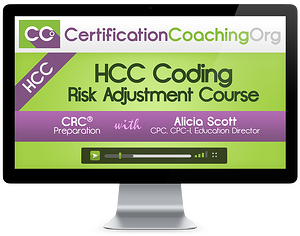 Save 8%!

One Time Payment of $1297

$1401
3 Payments of $467 Every 30 Days


*less $150 administrative fee