Need ICD-10 Training But Don't Need a Full Course?
Our ICD-10-CM Blitz Review Is Just For You!
Do you feel you need training in ICD-10 but you don't need a full course? Then this Blitz is for you! This is the perfect way to review, refresh, refine your ICD-10 skills. This is Alicia Scott, CPC, CPC-I, Educational Director with CCO, and we have a fantastic ICD-10-CM Blitz Review that will do just that for you.
The ICD-10-CM Blitz Review Was Made For...
Certified Medical Coders
You need this ICD-10 CM Review Blitz if you're a certified medical coder and you still aren't 100% confident in your ICD-10 knowledge. Instead of taking a long detailed Review Blitz that covers topics you already know, you can invest in this shorter Blitz Review to refine your existing skillset and learn essential shortcuts to get the job done.
And in case you're wondering, yes! This is the perfect Review Blitz to bridge the gap from ICD-9 coding knowledge to ICD-10-CM knowledge.
Medical Coding "Newbies"
You need this ICD-10 CM Training Blitz if you are new and need to get up to speed quickly with ICD-10. If you're new to medical coding and you're wondering, "Hmm, everybody keeps talking about ICD-10. I don't know where to start," then the CCO ICD-10 Training Blitz is a perfect place to start because we're going to give you an overview of everything you need to know and we're going to give you all the details that supplement the overview.
Introducing the
ICD-10-CM Blitz Review


A Concise Review of ICD-10 Guidelines
The "ICD-10-CM Blitz" Helps You:
Bridge the gap from ICD-9 coding knowledge to ICD-10-CM knowledge

Prepare for board exam review related to diagnostic coding questions

Embrace diagnosis coding - the basis of ICD-10-CM coding, as the wave of the future in reimbursement
Discover and study only the parts of ICD-10-CM that you are most likely to be need
Acquire confidence in your overall coding ability, not just with ICD-10-CM
Makes you more marketable as a medical coder
And much, MUCH more!
ICD-10-CM Blitz Member's Area Overview
Let's take a look at everything that is included in the review package. When you purchase the ICD-10 Blitz, you start at the welcome area (shown below) which includes everything from a video on passing the proficiency exam, welcome information, answer keys and a place for you to ask questions of your coach at the CCO Help Desk Request.
Let's jump right to the meaty stuff. We have eight parts to the training. When we open one of them up (shown below), then you're going to see that we have a slide deck, videos and a quiz.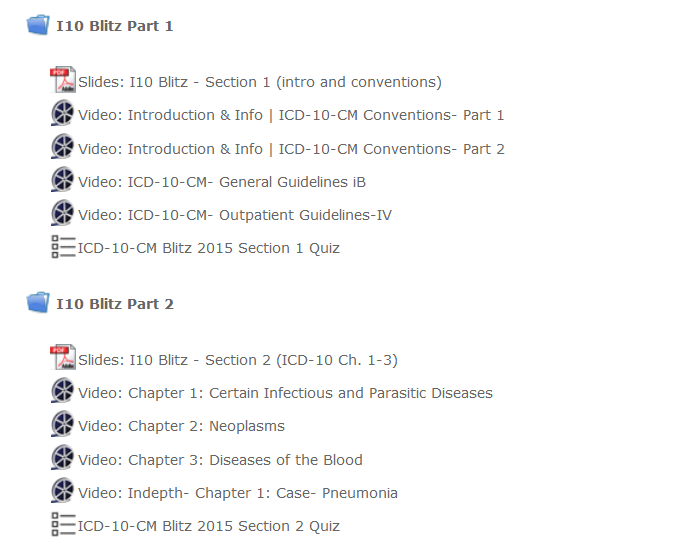 ICD-10 CM Slide Deck
Let's take a closer look at the contents in one of the parts. First, let's start with the slide deck. You're going to be able to print this out and follow along with the lecture videos as you watch them online.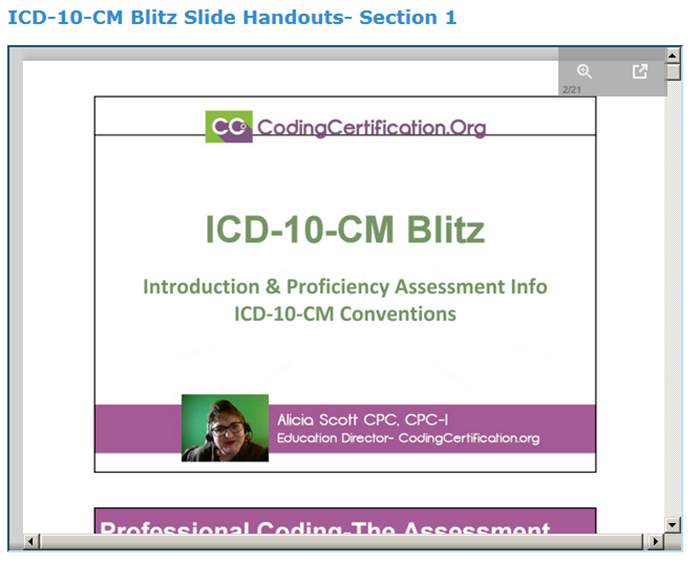 ICD-10-CM Blitz Video Lectures
Then, what does a lecture video look like? This is what it's going to look like.
You're going to be able to follow along with me as I give a video lecture about each ICD-10 section. Again, we have eight parts of the ICD-10 Blitz and over 20 hours of video training.
ICD-10-CM Blitz Case Studies
Not only do you get to follow along with a lecture and have me tell you about each section of the ICD-10 manual, but we have cases that we go over together in this lecture. These cases are very similar to what you're going to see on the proficiency assessment. Each one of those eight parts have an ICD-10 case study in them.
You can either collapse them or close them easily. Now, after we do the cases, that's not all.
ICD-10-CM Quizes
We have a little quiz that you can take at the end to get additional practice. What you do is you sign with your first and last name, and an e-mail address. This information will go to your coach and then you'll be able to get some feedback.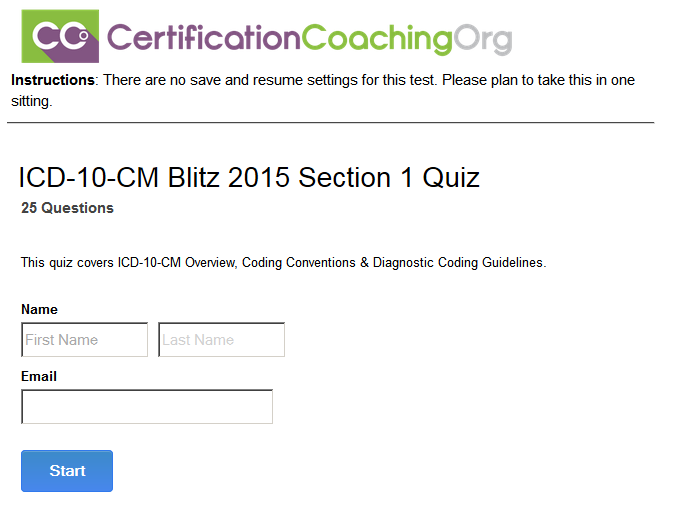 Now, again, if you're already hooked, I have to tell you there's more. Let's go over what the more is.
ICD-10-CM Decision Tree Mind Map
We have an ICD-10 CM mind map. This is an ICD-10 decision tree in the form of a mind map. Each one of these ICD-10 topics, Laureen has gone in and opened them up like a family tree of information.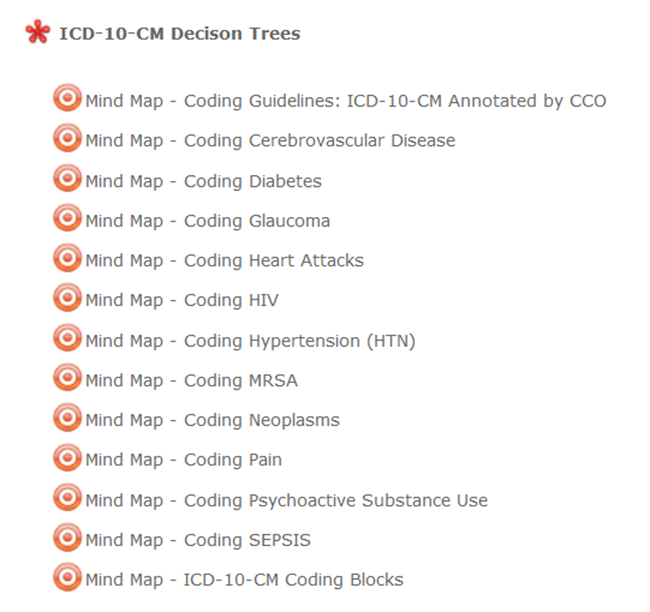 Guidelines.
Then they break down into individuals
A link for more information that will open up and take you directly to a website that talks about the area in question. Fantastic.
ICD-10-CM Mini Review
That's not all. We also are going to give you the ICD-10 mini course that CCO has. If you've been with CCO for awhile, you may remember that Laureen Jandroep developed an ICD-10 mini course.

Actually, what happened was our ICD-10 Blitz was more thorough, so it replaced the ICD-10 mini. Then Laureen said, "Why don't we just give them both? We'll put the ICD-10 mini course into the ICD-10 Blitz." You get a lecture from Alicia and then you also get a lecture from Laureen, two reviews in one. Pretty exciting!
ICD-10-CM Blitz "Extra Stuff" + Bonuses
We have a whole lot of extras for you. Our CCO support team has gathered ICD-10 content from our YouTube channel and the Q & A webinars we present monthly. We have included it in this review for easy access. The specific video content is a click away.
ICD-10-CM Blitz Practice Exam
Now, again, I know you're telling yourself, "Can it get any better?" Yes, it can get better. We added an ICD-10 practice exam. If you want to make sure that you're really confident going into the ICD-10 CM proficiency exam, you need to take practice exams. To review: we're going to go over bonus cases at the end of each one of those eight sections. But compiled together is a kind of mock proficiency exam. What we're known for at CCO is our rationales, and as soon as you take this practice exam, you're going to get instant feedback with those amazing rationales that will answer any questions that you have.

CCO Personal Coach
If you still have questions when you take that practice exam, it's not a problem. Go to the Help Desk Request link in your membership area and ask your coach for assistance.
We'll get back with you right away and answer anything that you're dealing with with ICD-10 CM that you need a little more explanation on.
ICD-10-CM Blitz Review Recap
Overall, this is the ICD-10 Blitz. When you purchase this, you get all of slides, videos and practice exams plus all the extras that we've packed in. Over 20 hours of ICD-10 video training. You get a coach to answer your questions and the practice exams to make sure that you go in with confidence to take the ICD-10 proficiency exam with the AAPC. Or if you're just wanting to know more about ICD-10 to see if you're ready for that transition, this review will help you greatly.
How do you get this fantastic ICD-10 training review with CCO? All you have to do is click the Buy Button below and get immediate access
You'll Start Seeing Immediate Results with Our "ICD-10-CM Blitz"....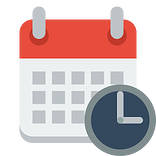 Learn about their proven strategies for studying, taking and passing the ICD-10-CM Proficiency examination.
If you are interested in viewing and experiencing a great educational, fun and high value ICD-10 Online Training Review, then please purchase your subscription below.
This ICD-10 Blitz Review is perfect for those preparing to take the ICD-10-CM Proficiency exam.
For those of you who are just preparing to sit the ICD-10-CM Proficiency exam, this ICD-10 Review will make a huge difference in helping you master time management and retention skills that will help you pass the exam.
17.5 AAPC CEUs for the Already Certified!
This program is approved by the AAPC for 17.5 CEUs for attendees who are already certified.
Best of all, it only costs $197
Also receive online video recordings to review at your leisure.
Plus a 50 Question ICD-10-CM Practice Exam - a $29 value.
So again, if you're a Certified Coder who wants to pass the ICD-10-CM proficiency exam on their first try, understand this:
ICD-10-CM Coding is just around the corner and you don't want to be left behind not being certified in ICD-10 coding.
Perhaps the most important part of learning is your instructor, and I really want you to know this: I've taught hundreds of students coding courses and I am committed to each and every one of you as my students. I try to make every one of my courses light, fun and enjoyable to listen to and participate in as a student. Who wants a stale presentation that is agonizing to listen through? Not me! Neither should you!
Preparing to pass the ICD-10-CM proficiency assessment doesn't have to be hard, stale, dull or lonely. We here at CodingCertification.org are known for our "hands on" teaching methods that focus on what the students needs to accomplish their medial coding career goals. We're not here just to sell you another course!
Act Now - Review, Refresh and Refine Your Skills!
Get Onboard With "ICD-10-CM Blitz" Now! Watch virtually from your own computer… from anywhere in the world with an internet connection. Secure your instant access now and learn anytime during your 12 month's access to the content.
Click One of the Buttons Below to Get Started!
Yes! I'm Ready For The ICD-10 Blitz Review!
Order with confidence on 100% secure servers.
* Textbook can be ordered at the CCO Book Store here.